Just before the end of the year, the Egyptian Natural Gas Holding Company and the Egyptian General Petroleum Corporation announced a new bid round with 20 blocks open for bidding. EGAS released 2 onshore and 5 offshore blocks in the Nile Delta region. While EGPC released 15 blocks, 5 offshore in the Suez region and 10 in the Western Desert region. The combined area of all the blocks is over 56,000 sq km.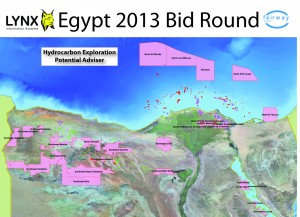 The bid round is scheduled to close at noon on Monday 19th of May 2014. More official information from EGAS and EGPC.
To download the block boundaries on offer as an ESRI shapefile, please enter your details before clicking on the link.
Note: these block boundaries are not definitive, and are intended only as a guide. The blocks have been digitised by Lynx, and may differ in places from those defined by the governing body.
Lynx Information Systems and its co-venturer Fairway Exploration sell a major, in-depth "GIS Exploration Adviser and Hydrocarbon Potential Report" for Egypt. This in-depth ArcGIS-enabled report and database (with supplementary onshore 2D seismic data) covers all the major producing and frontier basins, and has informed many IOCs in their new ventures exploration. Lynx have recently finished the 2013 Update for the Egypt GIS Exploration Adviser, for more information contact lynx@lynxinfo.co.uk, or view the Egypt page on our website