On the 22nd of January 2014, the Agence Nationale pour la Valorisation des Ressources en Hydrocarbures (ALNAFT) announced a new bid round with 31 blocks open for bidding. All of the blocks are onshore totalling over 462000 square kilometers.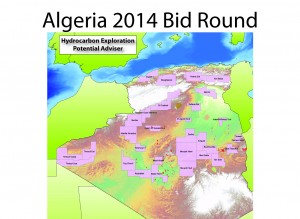 The schedule for the bid round is as follows: first a general presentation will be made on March 3rd 2014, followed by a data room session from March 17th to 22nd 2014, then clarification meetings from the 24th of March to the 29th of May 2014. On the 30th of June 2014 ALNAFT will transmit the final contractions, submission of contracts and bids starts August 6th at 10am and close on the 5th of September 2014 at 9:00 am local time. Please contact ALNAFT for more information about the schedule.
To download the block boundaries on offer as an ESRI shapefile, please use our interactive Bid Rounds map.
Lynx Information Systems sells a major, in-depth "GIS Exploration Adviser and Hydrocarbon Potential Report" for Algeria. This in-depth ArcGIS-enabled report and database (with supplementary onshore 2D seismic data) covers all the major producing and frontier basins, and has informed many IOCs in their new ventures exploration. For more information contact lynx@lynxinfo.co.uk, or view the Algeria page on our website