The Geological Society of London officially kicked off a year-long programme of events in celebration of the 200th anniversary of the publication of William Smith's map "A delineation of the strata of England and Wales with part of Scotland" in 1815, with the launch of the William Smith's Maps – Interactive website. William Smith's map was the worlds first geological map, created by the surveying efforts and geological insights of William Smith and the first practical application of the principles of lithostratigraphy and biostratigraphy.
The launch event was held in Burlington House on 23rd March, coinciding with what would have been William Smith's (often referred to as the "Father of English Geology") birthday. It was attended by Sir David Attenborough, who unveiled a plaque at Smith's former London home, and also introduced the new interactive website, www.strata-smith.com, which allows users to view all the known surviving editions of the Smith Map, overlay with modern geology. Smith's cross sections can also be viewed in comparison with modern seismic data.
The development of this website was sponsored by UKOGL, and developed by Lynx Information Systems. The website has been specifically developed to host a number of fine examples of William Smith's 1815 map, and is a free -to-all educational resource designed for teachers, students, academics and anybody with an interest in the life and work of William Smith.
Using Lynx's expertise and experience has enabled the website to feature many great things such as a 'live' interactive map viewer. This enables users to not only view the maps but also to overlay one against another and compare them with modern geology, wells, seismic sections (using Lynx's online SEG-Y viewer), and current topographic maps. Users can also display Smith's geological sections and view 3D animations of his maps.
Lynx's very own Peter Wigley gave a fantastic demonstration of the Strata-Smith website during the launch.
Below: Peter Wigley of Lynx provides the audience with a live demonstration of the William Smith's Maps – Interactive Website (pictures courtesy of the Geological Society)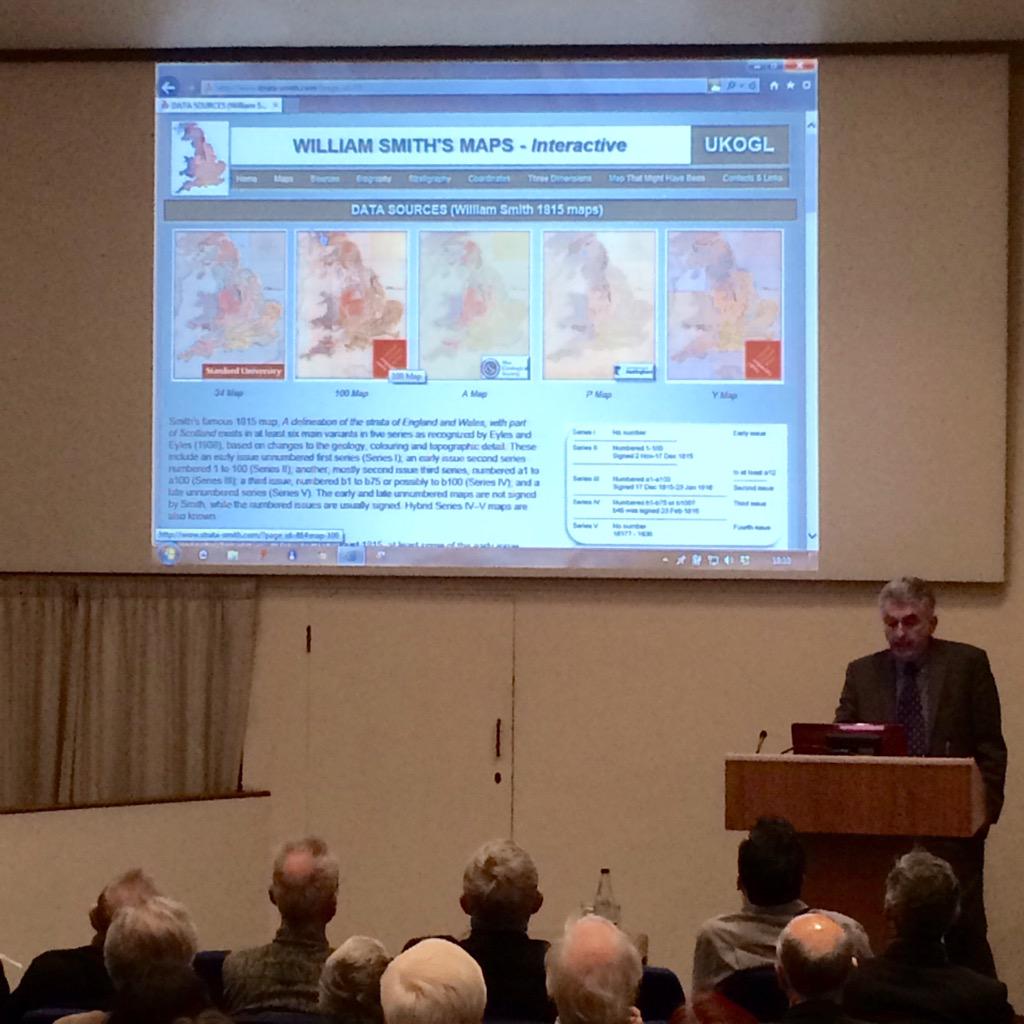 Below: Sir David Attenborough introduces the Strata Smith website & comments on the remarkable achievement Smith's work represents