Egypt has announced 2 new International Bid Rounds for 2018, for oil and gas exploration and exploitation. The licensing rounds will close in early October.
EGAS have released 16 blocks in total, with 3 onshore the Nile Delta and 13 offshore Mediterranean Sea. Most of the blocks have seen some exploration in previous rounds and contain wells and seismic for the acreage, with a few blocks already containing promising shows and discoveries.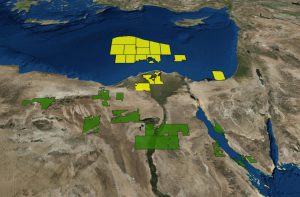 EGPC have released 11 blocks in total, with 4 in the Gulf of Suez, 2 in the Eastern Desert and 5 in the Western Desert. Blocks in the Western Desert should prove exciting with recent news of oil discoveries by ENI located nearby. There are 2 blocks on the under-explored eastern shore of the Gulf of Suez while the western shore has plenty of surrounding fields and infrastructure.
As mentioned previously, Egypt has low operating costs for hydrocarbons and a strong demand for gas. The growth of global oil and gas demand will help to steady prices providing an enticing opportunity for operators.
Egypt has dropped a double whammy of treats for the industry to get its teeth stuck into over the coming months. With so much acreage to evaluate, Lynx can help by providing an Adviser GIS and Report for companies looking to evaluate the opportunities which have been made available.
The package will update your knowledge base, providing geological, geochemical, seismic and well data as well as field and reservoir information. The GIS and report are a fantastic way for companies to gain an overview of the country and to help provide the first foothold into Egypt – contact us to find out more.