On the final afternoon of a successful PETEX show, Lynx asked an independent passer-by to pick the winner of the Pure DAB digital radio from the amazing number of entrants in the business card draw.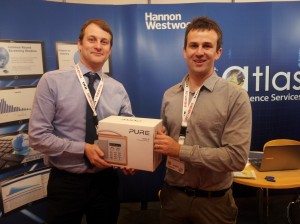 Chris Bulley, of Hannon and Westwood (colleague Simon Robertshaw pictured with Adam of Lynx), won the prize, exclaiming: "I never win at any of these draws…so I wanted to thank you for breaking my duck and with such a useful prize".
Lynx would like to thank all those who entered and are keen to hear from anyone who might want more information regarding our Seismic or GIS Data Services.