The Ganoub el Wadi Holding Company for Petroleum (GANOPE) in Egypt has announced a new international licensing round for oil and gas exploration and exploitation in the southern Western Desert and in the Gulf of Suez. The Licensing Round will close on 30th November 2016.
The five blocks in the south of the country – West Mesaha, Mesaha, East Mesaha, El Kharga and South El Kharga – have not been licensed before, and have seen little previous exploration activity.
The five blocks in the Gulf of Suez comprise the onshore block West Gebel El Zeit, plus offshore blocks, South East Ghara, East Geisum, Sea Bird and South Sinai.
Explore the blocks on offer in the Lynx Interactive Bid Rounds Map, and download a shapefile of the GANOPE 2016 blocks on offer.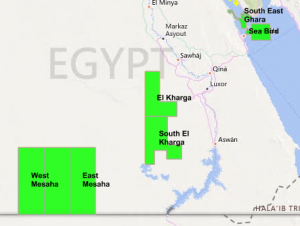 The Lynx/Fairway Egypt GIS Adviser provides an up to date overview of the exploration history of Egypt, new discoveries and prospective hydrocarbon plays. Along with a GIS-enabled report and geodatabase, supplementary seismic and wireline log datasets are also available – contact us to find out more.